The Haul V8 vs Twin-turbo F150's head-to-head on Drag Strip and Dyno • (January 14th, 2020) –
AmericanTrucks' (AT) Justin Dugan puts the V8 vs Ecoboost F150 debate to bed with his latest episode of AT's The Haul YouTube Series.
In this episode of the Haul, Justin compares two similarly equipped Ford F150 SuperCrew's, pulling them into the AT studio for a dyno battle, both stock and tuned, before heading to the drag strip for a head-to-head battle.
To keep the playing field level, both trucks feature the 10R80 10-speed automatic transmissions, 33" tires, and 3.55 rear end gears.
The Lightning Blue 2017 XL features the latest iteration of the 3.5L V6 Ecoboost engine while the Lead Foot Gray 2018 STX features the latest version of the 5.0L V-8.
With a goal of seeing which tuned F150 performs better, Justin hits AT's in-house dyno to measure stock power output for both trucks.
before uploading respective 93 octane Bama tunes with SCT's SF4/X4 Power Flash tuner to measure both peak and curve power gains.
After the dyno session, Justin takes both trucks to Maple Grove Raceway in Mohnton, PA for both stock and tuned drag runs to see which engine performs better in the quarter mile.
Ecoboost or V8;
which one do you think will perform the best on just a tune and nothing else?
The choice is YOURS! But should compare to other Ford Models with similar engine configurations so choose wisely if wanting more POWER!
330hp 2020 Mustang EcoBoost 4 Cyl. Turbo Performance Model Revealed. PAOLI, Pa. (April 15, 2019) – Ford Motor Company's official release this morning on the new Turbocharged High-Performance Package (HPP) for the new 2.3L Inline 4 Cylinder engined 2020 Mustang EcoBoost.
Imagine what you could really do with the F150 3.5L V6 Ecoboost Turbo engine with some actual boost tuning! Specs Below video.
3.5L EcoBoost F-150 Specs & Info
365 HP & 420 TQ (Raptor's 3.5L – 450 HP & 510 TQ)
17 mpg city/ 23 mpg highway / 20 mpg combined
3,180 lbs Payload Rating / 12,200 lbs towing capacity
Direct Fuel Injection
Dual Over Head Camshafts
Maintains 90% peak torque from 1,700 RPM to 5,000 RPM
6 qts of 5w30 (with the oil filter) oil capacity
EcoBoost F-150 V6 Engine Compared to the V8 F-150 Engine
The main selling point of the EcoBoost F-150 is it's a solid alternative to the V8 coyote sourced engine. The 2.7L and 3.5L EcoBoost engines are able to produce similar power and torque to a V8 while consuming less fuel.
Thanks to a twin scroll turbocharger and direct fuel injection, EcoBoost F-150s are able to overcome the disadvantages of naturally aspirated, small displacement, 6-cylinder engines and create equal output to naturally aspirated V8 engines. Considering how you can get an EcoBoost F-150 cheaper than a V8 F-150, it's no surprise they are becoming as popular as they are.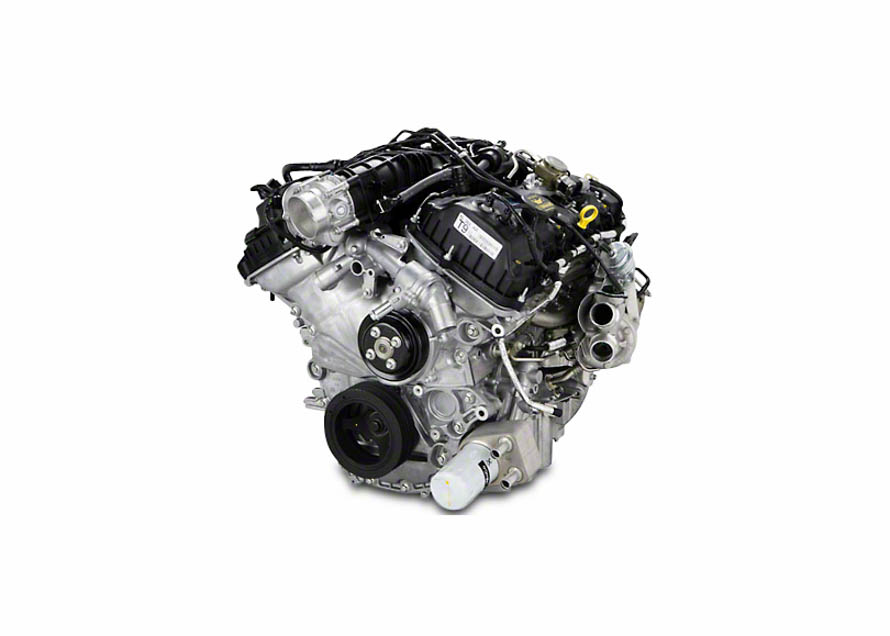 3.5L V6 EcoBoost Engine
How to Improve the Acceleration of an EcoBoost F-150
Cold Air Intake And Tuner
EcoBoost Throttle Body
Custom EcoBoost Tune
EcoBoost Downpipe
Bigger EcoBoost Turbocharger
F-150 Gears
Both the 2.7L and 3.5L version of the EcoBoost F-150 offer a good bit of power and acceleration out of the factory, however they both can benefit from some simple mods that will improve overall performance. Upgrading your EcoBoost F-150's cold air intake and pairing it with a custom tune will allow it to take in more air, which will help the turbocharger work harder, produce more power, and also improve throttle response as well as fuel economy.
Swapping out the throttle body will add some power while also enhancing throttle response. Replacing your EcoBoost F-150's downpipe with a less restrictive aftermarket one will allowing the twin-scroll turbocharger to work more efficiently and give you a healthy bump in horsepower and torque, while also changing the exhaust note considerably. An off-road downpipe will not have a catalytic converter and will not pass emissions testing, however it will add more power than a catted downpipe and sound much louder as well.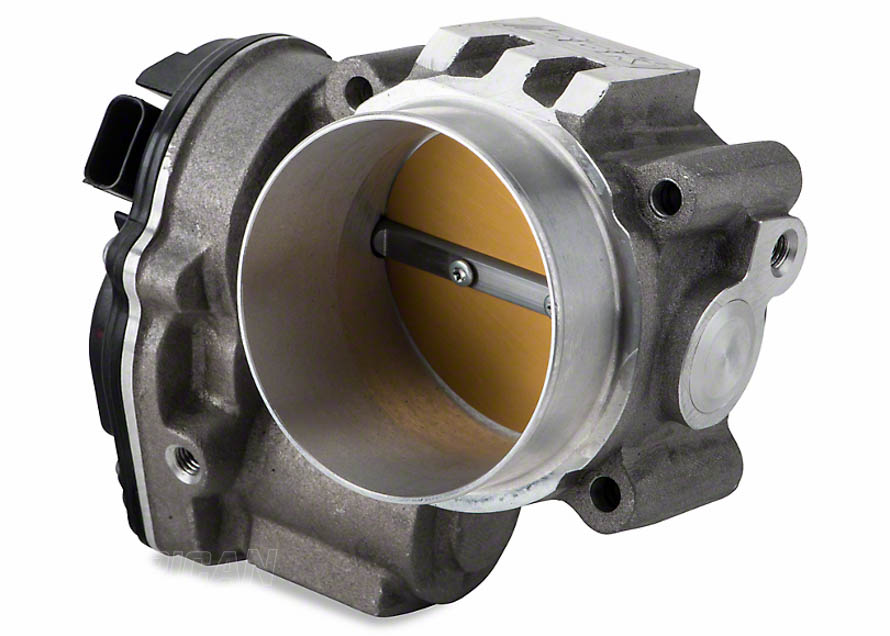 73mm Throttle Body for 2011-2018 EcoBoost
The easiest way to add power to your EcoBoost F-150 is by swapping out the turbocharger for a larger unit. A bigger turbocharger will make much more power than the stock one, however you may incur or increase turbo lag and will test the limits of the EcoBoost engine block.
Changing out the rear gears will improve acceleration while not adding any horsepower. This is because swapping out the rear gears for a steeper gear will allow you to access more power earlier in the RPM band. Steeper gears do sacrifice your top end speed to pull this off however, but if you're looking for a pick-me-up, a set of gears will do the job.
How Do EcoBoost F-150 Twin-Scroll Turbochargers Work?
Twin-scroll turbochargers have two input lines from the exhaust manifold that lead to the turbine that suck in the exhaust gases. Having two input lines avoids the issue single-scroll turbos have where the firing sequence of the cylinders causes the pulsing of the exhaust gases to delay the build-up of boost, or in other terms turbo-lag. Twin-scroll turbochargers can spool up much quicker than conventional turbochargers and will give crisp and quick throttle response backed up by significant low-end torque.
Replacing the stock twin-scroll turbocharger with an aftermarket turbocharger will allow your EcoBoost F-150 to make more power, but it may reduce fuel economy and the longevity of your engine depending upon how much boost you run. While there is no official word how much power an EcoBoost engine can hold, some forum users have reported the 2.7L EcoBoost giving out about 430 HP and the 3.5L giving out about 500 HP.
If you do replace the stock EcoBoost turbo with an aftermarket one, you will also need to upgrade some other things on your F-150 such as the fuel injectors, intake, spark plugs, intercooler, throttle body, downpipe, and tune to get the most out of it. The turbo system is mainly comprised of the turbocharger, intercooler, hot side and cold side piping, and the downpipe.
How Does the EcoBoost F-150 Intercooler Work?
The EcoBoost F-150 functions mechanically just like any other turbocharged application and needs to use an intercooler to get the most out of its turbo. The F-150 EcoBoost intercooler takes the hot air produced from the turbocharger and cools it down before feeding it back into the engine.
Upgrading the intercooler on your EcoBoost F-150 will free up some horsepower as well as make your turbocharger perform stronger. Swapping out the intercooler on your F-150 for an aftermarket one is a necessary step when upgrading the turbocharger.
How Do EcoBoost F-150 Direct Injection Engines Work?
Direct injection F-150 engines shoot fuel directly into the cylinder/combustion chamber instead of shooting it above the chamber and above the valves (which is port fuel injection). Adding fuel directly into the combustion chamber allows for more power since the fuel burn is more efficient. The overall process is very efficient in terms of power creation and fuel economy when compared to port fuel injection.
What is Ti-VCT & Does My EcoBoost Have it?
Everywhere you look, the term Twin independent Variable Cam Timing (Ti-VCT) is plastered throughout the details and spec sheets of the Ford EcoBoost 2.7L and 3.5L engines, but what does it mean?
Twin independent Variable Cam Timing means the engine allows for the intake and exhaust valves to remain open for a fraction of a second, overlapping each other. This overlap allows new fuel to mix with the escaping exhaust gasses, which improves torque and improves emissions. Seriously, it means 15% lower C02 emissions.
The TI-VCt technology comes standard in the 2.7L and 3.5L EcoBoost engines, but is also a key player in the naturally aspirated 3.5L V6 and 5.0L V6 engines.
How to Identify an EcoBoost Engine
Frankly, it's pretty easy to do once you know what you're looking for. Look for the twin scroll turbochargers fitted to the EcoBoost, plain and simple. The 3.3L Ti-VCT V6 is naturally aspirated, meaning it will lack any sort of turbocharger. Easy stuff.
As for those of you who want to know what turbos Ford decided to use on the EcoBoost, they're Borg Warner K03s.